Where possible, I'm trying to use a variety of cookery books for the recipes on this blog. I will admit to relying on baking in these early stages but at least I'm taking my recipes from a few different sources.
What's been interesting is that there has been real variability in the quality of the outcomes, to the point that I'm starting to think that it's not all down to user error. Yes, there is some of that in the mix. Maybe even quite a lot. But there's also a noticeable difference in the quality of the instructions. So what makes a good cookbook and who can I trust with my dinner?
To start with, you need to be able to source the necessary ingredients. I loved browsing through The Hairy Bikers' Asian Adventure but I would have had to restock half of my kitchen to make most of the recipes. You also need to think about limiting waste, which is made harder when you buy obscure ingredients. There have even been a few cases where a recipe has said to buy a certain amount of something before proceeding to only use half of it. Unhelpful.
Next, and crucially, the recipes need to be well-written. They have to be detailed enough to avoid confusion but not overly wordy. You need to be able to read it in small chunks as you move from one stage to the next. There definitely needs to be a strong and logical order. I've encountered recipes that get you halfway through before they tell you that you should have been preparing another aspect of the meal at the same time. Gah! Granted, if you don't read a recipe through before you start then it's partially your own fault, but the author should factor in reader incompetence. No matter how trivial a detail might seem, you can guarantee that there are people out there who need to be told. It's the writer's duty to do so.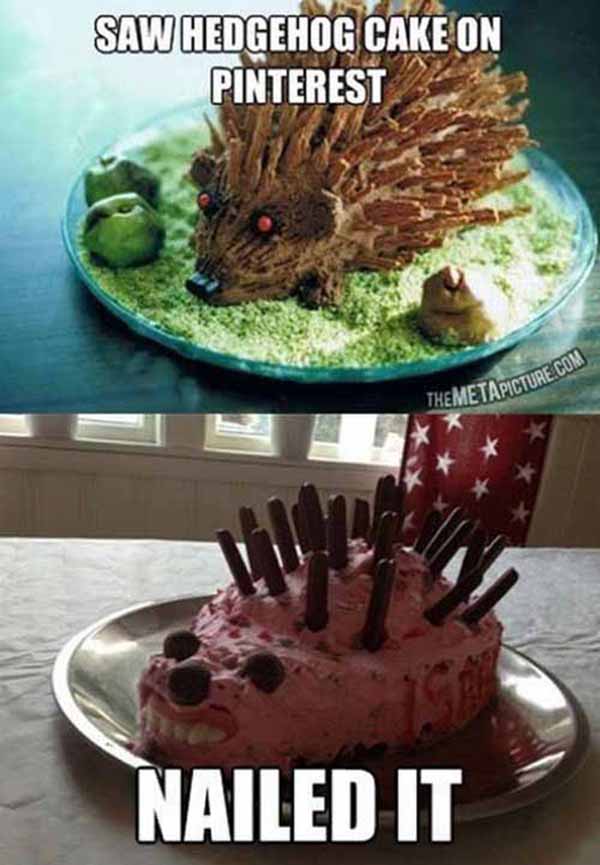 Finally, you kind of want your own creation to look something like the picture in the book. After all, it's the pictures that really encourage you to buy the book in the first place. I think we're all realistic enough to know that we won't be able to recreate the exact results (the author will have had five assistants and a specialist food photographer after all) but it needs to be recognisable. I'm not a coordinated or artistic person but I would not be happy if I came up with something like this:
You can see the whole amazing set of these images
here
, but I think you get my point.
Of the books I've used over recent years, there have been some clear winners and losers. Although the Asian book didn't work for me, I've always been able to emulate the Hairy Bikers' recipes otherwise. Jamie Oliver's recipes are usually very good although his ingredients can be a little tricky at times. Nigella is the person I've really struggled with. Her recipes just don't work unless you have the kitchen experience to extrapolate from her rather sparse instructions. My current favourite cookbooks are from opposing ends of the spectrum. I've got a real love for Asda's free magazine. You know the ingredients are available and few recipes are longer than half a page. Current champion, though, is Gizzi Erskine, whose recipes have the wow factor without requiring huge amounts of experience or unlimited time and money. Her cookies are delightful; her pasta sauces hearty and
healthy; her katsu curry isn't far off divine. I'm using Gizzi's Kitchen Magic at the moment and it satisfies all three of my cookbook requirements. Move over Nigella, there's a new domestic goddess in town. And her recipes actually work.