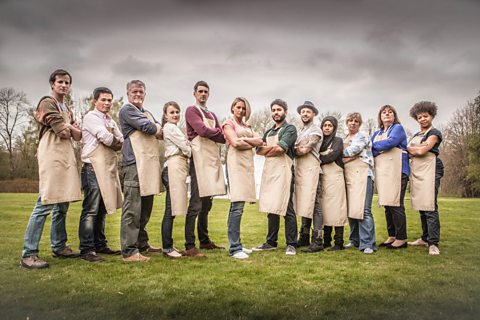 This year's crop of bakers
Yay, it's back!
I was a bit late to the party with The Great British Bake Off. Whether it was the twee look of the show or the fact that everyone seemed to be watching it, I was resistant to the idea of the show for many years. Then, about six months ago, I was stuck at home, poorly and bored. There wasn't much on TV, but one of the food channels was showing old reruns of Bake Off.
So I watched one.
Then I watched another.
And another.
Then it was about four hours later and I was utterly hooked.
There is something rubbish about it. The way the competitors get so absurdly upset about a 'soggy bottom', Mel and Sue's innuendos, the whole idea of watching people bake for an hour. But it is compelling and, as a keen amateur, I have learned some useful tips for getting the most out of my baking.
This next paragraph contains spoilers from the first episode.
The trouble with the early episodes is that there are a lot of bakers so less time is spent with each person or looking at their bakes. Stu was always going home. He must be a strong baker to have made it into the tent but nothing was going his way. Fail of the week though had to be the layers of mousse disintegrating in Dorret's black forest gateau. I think even I might have cried if that had happened. The three early standouts were Nadiya, Tamal and star baker Marie, but there's plenty of room to mess up still.
Spoilers endeth here.
As a tribute to GBBO, and also as a way to stretch my baking skills, I'm going to try and cook one of the recipes from the show each week. As I've made a walnut cake and a beast of a black forest gateau before, I'm going to try out a madeira cake this time. In fact, I'm going to use a recipe from the tie-in book itself, so it must be good.
I'll post up the results of these experiments as they go. I'm already dreading French patisserie week...