Oh god, pastry week's a stressful one, isn't it? Even without the threat of a soggy bottom, pastry-making can be a real challenge. It's a fickle mistress: a recipe that works well one time can resolutely fail the next, despite everything apparently being the same. Suffice it to say, I was a little nervous about my bake this week.
GBBO itself saw one of the people's favourites go home. Alvin seems like a genuinely lovely chap but he was the right choice to go. Nadiya had a difficult week too. It's lucky that her flavours were strong enough to carry her through the collapse of her signature dish. Highlight of the episode was definitely Tamal getting all dreamy about his favourite sandwich.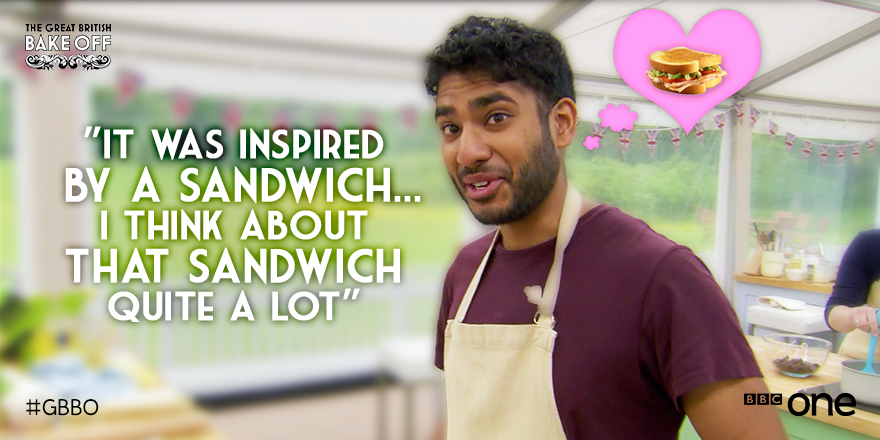 Food-lovers around the world all nodded in understanding.
Anyway, to continue with my GBBO bakealong challenge, I decided to go for a classic Bakewell tart. It's one of my favourites, yet I had never made it from scratch before. To add to the GBBO theme, I went for Mary Berry's own recipe. Results below…
OCD Panic Rating: 1/5
Handwashes: I lost count. The rubbing-in method is not a clean one.
I think my main issue with pastry recipes is that there are usually multiple stages to them. It's why I have such a vast array of loaf cake recipes: you just bung everything together before baking and it always comes out well. Not so pastry. It's a bit of a sod.
At least shortcrust pastry is pretty simple. I used the rubbing-in method then added 3 tbsps water to get the dough to the right consistency. Not owning a flan tin, I decided to use a loose bottom cake tin for this recipe. It doesn't make a vast amount of difference, but it did mean I had to judge for myself how high to have the pastry. I decided to make it a little higher than seemed right, safe in the knowledge it could always be trimmed if necessary. Once lined, the tin went in the fridge to chill, then was blind baked (lined with foil and rice – none of that baking beans nonsense for me), then was baked for a few extra minutes without the foil and rice. The base rose from the tin a little at this point but not enough for concern.
I then had to make the frangipane loveliness. I had almost enough ground almonds for the recipe but had to grind some flaked almonds in a pestle and mortar to make up the weight. These went into melted butter with sugar, egg and a bit of vanilla essence. The recipe says to use almond essence but I didn't have it in the cupboard and couldn't see enough times when I would use it to justify the purchase. Regardless, the mixture seemed to form the right consistency, thick but pourable, so I piled it on top of the thin jam layer. Flaked almonds were sprinkled over the top as a finishing touch before baking. There was about 1.5 cms of pastry around the edge that I decided to trim down, leaving just a little lip of pastry around the top. Then it was in the oven to bake for about 30-35 minutes.
Towards the end of the cooking time, I put foil over the tart to stop it browning too much. I saw my pastry error straight away: the frangipane had actually risen above the top of the pastry! Thankfully, it had set enough to not leak out. I decided to use icing to try and cover the rather haphazard look of the final thing:
I would like to think that it has a good homemade look. I'm sure Mary would just call it messy. She's probably right.
The good news is that it has the lovely delicate Bakewell tart flavour. Bad news, the frangipane is not quite as set as I would like. It's almost a bit greasy. I wonder if that's my fault for using flaked almonds in it: maybe they were not ground up enough, leaving the texture a little off. It's not unpleasant though and, most importantly, the blind baking prevented a soggy bottom. The pastry is actually very good, thick enough to carry the filling but not so thick that it overpowers.
I doubt this would have won me star baker, although I think it would have been enough to see me through this week!
Key Points:
Roll out pastry on baking paper. It makes cleaning up a lot easier and you tend to need less flour. Also, if you are an OCD sufferer like me, it helps avoid panics over how clean the work surface really is.

Pastry will shrink during baking. If you think you might need to trim down the sides, give it the benefit of the doubt. It's easier to trim the pastry at the end than it is to add pastry back on!
Win Rating:
3/5